What makes Mettaton unique in Underground? Well, I would say every tiny part of him.  Hair style, facial features, cloth, charm, or whatever you could think. We've completed the costume development, now  we're moving to the each step to cosplay this character. The below part  is about styling the wig.
What to prepare before hand:
Styling gel,
Curling iron
Scissors
Put the wig on the dummy head, and comb a little. According to the character image, part the hair in sections. 
Trim the wig into suitable length first, and then heat the hair which need to be curled with a  curling iron.  Be careful with the temperature, the wig can be easily burnt. Usually with 170 °C , one second is enough. For 100 °C , heating the hair for 2 seconds would be fine.
Do not mind to much about the curl shape at this step, you can take care of it when it cools down.
Wait at least 2 seconds after removing the curling iron. Then Use your fingers to curl the hair up. If you feel it is too hot to touch, use something cylindric to make the shape. Adjust the crimpness as you like.
Done with the side hairs, deal with the back part.
It is similar to make the curl, but be careful with the hair cut, it need to be in layers.
And do not trim it too short as when it gets curled it would not look too short or out of proportions.
When you finished the curl part,  add some spray all over to keep the whole wig standing in shape.
And we're done styling the wig, Check out how it turns out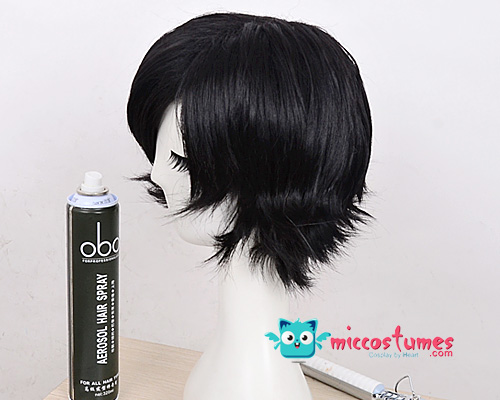 Try it on and put on the makeup and costume, you're the popular TV host Mettaton!
We will soon share a tutorial on the special makeup for this exact character,  keep following us.
Both Mettaton and Sans cosplays have been available at miccostumes.com, other characters from Undertale are coming soon. Keep an eye out for it, if you are looking for one.