Christmas is a special season of joy and love. After a year full of difficulties and changes, I am more excited about the upcoming festival than ever before, and I believe that you have the same feeling with me. A thick festal atmosphere has been building since last week, especially among cosplay enthusiasts.
These artists dressed up as Ann Takamaki, 2B, 9S, Catwoman or Hercules to help spread Christmas cheer. What would happen, do you suppose, if an adorably cute Christmas cosplay was applied to one of such powerful characters? See below for more about the answers!
Ann Christmas Cosplay
Perhaps you have seen Ann Takamaki in a skin-tight red latex catsuit, but have you ever seen Ann dressed like this? Image source: Luxlo (who you can find on Instagram here).
2. Nier Automata Christmas Cosplay
This is amazing! Rose/Kailey and her friend show us how did 2B and 9S get rid of their black outfits.
3. Catwoman Christmas Cosplay
How did Catwoman steal Christmas? Sailor Virgo Cosplay will tell you – red catsuit, Santa's bag, chimney, no one can less.
4. Hercules Christmas Cosplay
What if there is no Christmas cosplay costume? Charlie Castle teaches you one solution to solve everything. Wearing a Christmas hat, sing a Christmas song, talk about everyone's Hercules.
Seeing all this, maybe you already have some ideas for your Christmas cosplay. If you don't, don't worry because some suggestions are attached to this page.
White Cat Project Re Zero Collaboration Rem Cosplay Costume Cute Christmas Outfits
Super Sonico Christmas Dress Cosplay Costume with Bunny Ears Hat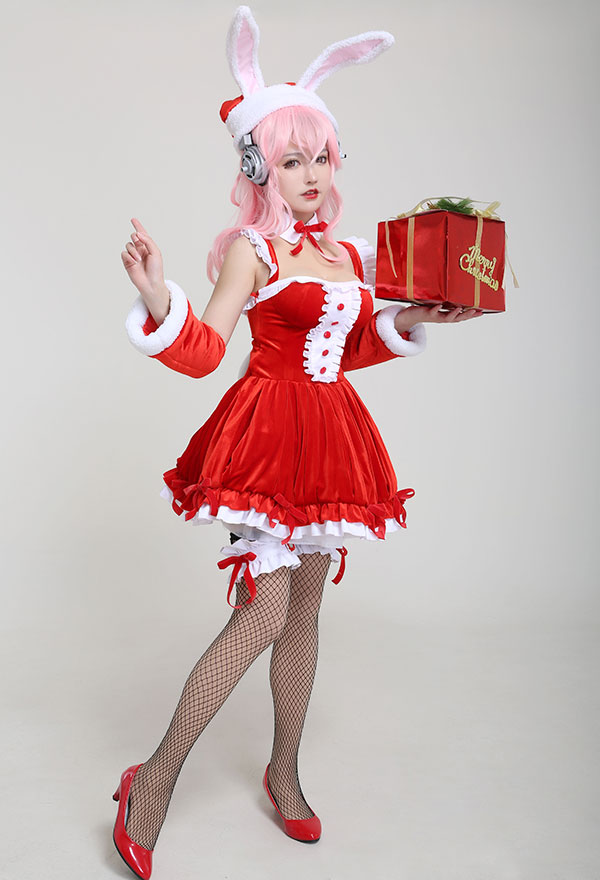 Fate/Grand Order Black Saber Christmas Costume FGO Luxury Suit Cosplay Costume
Re Zero Starting Life in Another World Rem Cosplay Costume Christmas Santa Claus Cosplay Outfits
Christmas Party Costumes Women Cute Green Christmas Tree Cosplay One Piece Dress
Women Adult Mrs Santa Claus White Lycra Suspender Princess Dress with Fluff Performance Outfit Cosplay Costume for Christmas with Leg Warmers
Men Adult Wally Red and White Cotton Blend Performance Outfit Cosplay Costume for Christmas with Hat and Glasses
Men Adult Mr Elf Red and Green Performance Lycra Fiber Couple Outfit Cosplay Costume for Christmas with Belt and Stripped Socks
Men Adult Mr Santa Claus Bar Red Polyester Couple Outfit Cosplay Costume for Christmas with Beard Accessory and Shoe Cover
Women Mrs Claus Adult Red Gown Robe Bronzing Nylon Performance Outfit Cosplay Costume for Christmas with Hooded Cloak and Belt
For more Christmas cosplay costumes, please pay close attention to our official website. Okay we will stop there, see you soon!