Blue Exorcist is back! And with it come many cool characters! My favourite has alwaysbeen Shura. She is so awesome, that's why I'm going to show you how to do her makeup and tattoo (Luxayre Cosplay btw)
Start off with a clean face. Apply moisturizer and prime your face. Use foundation and concealer afterwards and set everything with powder.
Use a blush that is not too pink. I chose a dark pink/ apricot colour. Then use highlighter. I used a champagne coloured one. Contour your face. Don't forget to apply some highlighter onto your lipsNow take out your eyeliner! I drew a rather thick line ,winged it out and brought it back to the lower lash line for that anime look. I then used a very light shade for my eyelids and on top of that I applied brown hues to make it look more natural. I don't think Shura would wear too much of makeup, it should look defined but not overdone. I did not want to use white eyeliner, because I think it would be too much.
Now comes the fun part! Shura has very full lips, so take your lip liner and draw your lower lip wider in the middle. The edges should stay the same, only widen them in the middle or you will look ridiculous. Then draw a line on your upper lip to connect your cupid's bow. You should have perfectly round Shura lips. Colour them in with lip liner and apply a light pink lipstick. If you want, you can do all of this with concealer and do the lips however you like then.
Stick on your fake lashes and blend them into your natural ones with mascara. Don't forget to put mascara on the lower lashes as well.
Throw that wig on! And go slay some demons! But spare Rin okay?
Do not  forget her tattoo in which she hides her weapon, let's move on:
I used a long lasting red lipstick and a very thin brush. Use a good reference and start drawing the two curvy outlines of the upper part. Be careful to make it all look symmetrical.
You can use Q-tips and makeup remover to clean it if you mess up.
Now comes a tricky part. Inside of these brackets are graphic characters. Try to imitate them as good as possible. It's hard using a mirror because it is all, well, mirrored. So if you can get someone to help you, it would be very easy and cleaner as well.
A very easy part follows now! Draw a straight line down and stop an inch or so above your belly button.
Now come new brackets around your belly button. Be sure to make them look symmetrical again. And you are done! Clean up anything you don't like. Set with setting spray so it doesn't come off.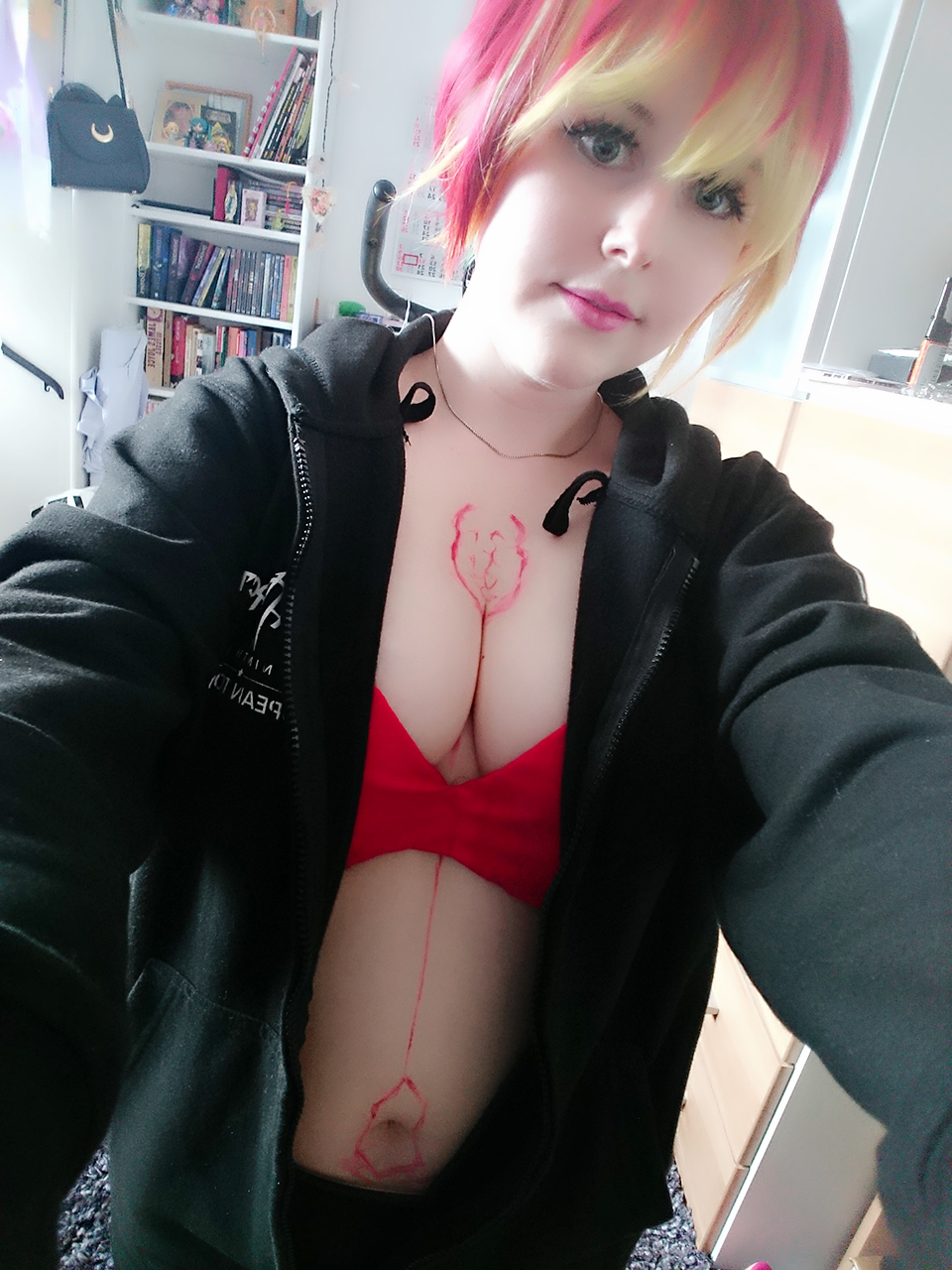 You can find Kiligakulei Shula costume, as well as Mephisto Pheles and Yukio Okumura cosplays at Miccostumes. And in the end a shot of Moriyama Shiemi for you, cosplayer Pockytheif, costume and wig from Miccostumes.com