Cosplayer Bio:
Name: Kuroyami Akai/Female/Malaysian
Social Networks: Facebook.com
Character: Grell Sutcliff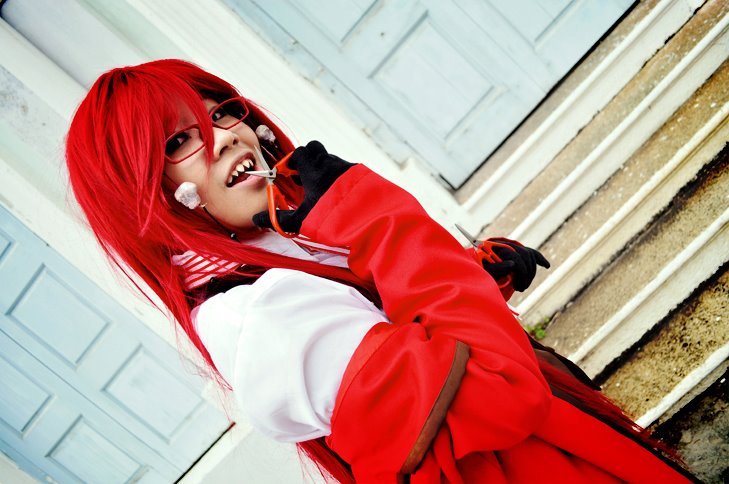 Comments from the cosplayer:
Haiii~~Grell Death! Hmm, I'm a cosplayer from Malaysia, currently still a beginner~ The pictures are all taken around a place named Fort Cornwalis, situated in the heart of Georgetown Penang, a small state in Malaysia. I am cosplaying as Grell Sutcliff and the photoshoot was held early this year and it was quite fun, mainly tourist kept surrounding me, asking what was I doing, which I answered proudly: "Cosplaying!"
Well, Grell is actually my first ever cosplay and I am one hell of an idiot Grell. Jumping around, screaming, fangirling and doing weird poses is actually part of my daily life, so well, I guess I was really into character when I was cosplaying Grell….untill the point where my body would be full of bruises after an event due to Sebastian and William's sad rejections.
Video:
Taken during Anime Festival Asia (Malaysia) Randomly fooling around~
——————————————————————————————————————————————————————
Winners and Prizes of the Contest:
One winner will be chosen out from every 15 contestants.
First Prize: any costume from our Black Butler costume catalog
Second Prize: any wig from our Black Butler wig catalog
Third Prize: $20 Cash Coupon
Winners after third will all get $15 Cash Coupons
The voting process:
You can vote for the cosplayer by Facebook likes and Google Pluses. Each Facebook like or Google Plus will be counted as one score.
In addition, the organizer Miccostumes.com acts as another judge. We will govern some votes and vote for the top 20 contestants. I.e., the best entry (in our opinion) will get additional 20 scores, the second will get 19, third 18, and so on.
Read
this post
for more details about the rules and how to join.