Speaking of Josuke Higashikata features, usually what comes first to the mind is the well
-maintained pompadour.  As we all know that his special hairstyle is after an unknown man
who saved his life as a child. To cosplay Josuke, styling the wig becomes important, so in this
article we are sharing a detailed tutorial for cosplayers to shape the pompadour hairstyle.
What to prepare:
A chignon of long strip shape (a spongeor any strip shaped flexible stuff)
Scissors
Hot melt glue
Styling gel
Hair spray
First big step is to make the pomp shape swept upward forehead.Get a long wig of similar color, and cut off a bunch of hair which is to be twined onto the blacklong chignon. To ensure the after style, it's better to cut from the back. (Length as pictured below) It can be thinner as long as the purple hair can fully cover  the black strip.
Use a hot glue gun to apply a layer of glue onto the black strip first and then add the purple  hairs.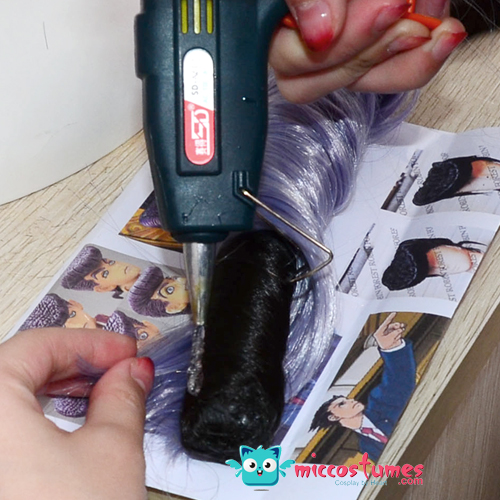 To make the hair glued firmly, you need to press it a little. But it might be too hot to touch immediately after the hot glue gun, do this one or two minutes later.
Read More