Boruto with much resemblance to his father Naruto has spiky blond hair.
As it is descibed that his hair style is like the appreance of a leaf and his ahoge serving as the stem.
Below is how we styled the Boruto wig for shooting.
To style a wig, you always need to prepare the hair spray and scissors beforehand, and more
importantly the basic wig for the character.
General trim:
Start cutting the hairs at the two sides short and thin it.
Similarly, make the overhead hairs short and thin.
Start from the top of the head thin the hairs verticaly as pictured.
Continue doing that till the lower neck.
Then move to the styling part.
Spary from the top, curve and uplift each wisp of hairs with hands.
For The overhead hairs at the front, get them in sections and shape them into small spikes as the picture below.
Then take care of the hairs at the side and back of the head.
 Spray again to keep the wig in shape.
Trim the fringe. Section the fringe hairs and seperately cut it into suitable length.
Use hands to make the fringe like bars, it will look more solid.
And we are done with the whole style.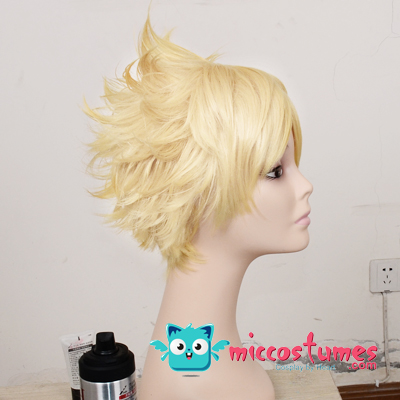 A full look for Boruto with wig, headband and costumes.
The Boruto costume has been available.
Find more Boruto: Naruto the Movie costumes and Naruto cosplays at miccostumes.