The demon weapon Shikama Dōji has been the typical symbol of  Shinoa Hiragi,  any one who wants to cosplay  this character can not neglect the scythe. Therefore, in this tutorial, we are providing a way  of home-making the Shinoa weapon for cosplayers.
First step,  draw the pattern for the scythe blade on a sheet of paper.
Be patient and accurate at this step, you know how great it will influence the shape.
When you finished the pattern drawing, trace it onto a 5mm thick EVA sheet  and cut along the lines. There will need 2 EVA pieces to create the blade.
As to the blade length, it depends on the snath size you planed.
Prepare a pipe of suitable length, bend it into the shape as the photo below. if you can not make sure the whereabouts to zigzag, measure first and mark with a pen. The pipe for blade part should be smaller than the pipe for the handle.
Next, strengthen the angles with iron wire, and to fix the snath design, apply iron wires too.
Then take care of the piece at the top of the snath.Cut EVA into shape and glue. If one layer of EVA is too thin,  add one more. When you are done with this, it will turn out like the following:
Wrap the curved parts of snath with 5mm EVA sheets and glue together.
Bevell at the edge and it will look much better.
Put the EVA blade and snath in place, use a pen to mark the crossing on the pipe and pierce a hole where a thick  iron wire is to thread through . Bury some wires to the marginal area equally.
Done with the wire thing, align the two blade piece and apply hot melt
Glue. It is getting closer to the Shikama Dōji!
The following step is to make other end of the snath.
Use three layers of 5mm EVA to create with iron wires implanted.
Be careful, the PVC pipe for the top part is smaller.
Next big step: brush 4 coats of latex! When it gets dried, color it into black.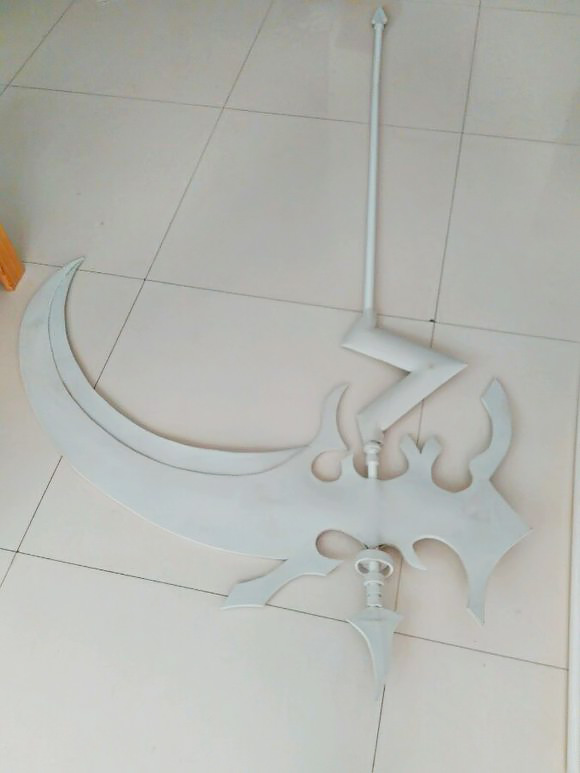 Here we used black paint and fluorescent green paint.
For the green strip, it is made from 3mm thick EVA sheet.
Almost everything is done now, assemble the pipes and check out how it looks.
It's easy to understand and make your own, get it started by preparing the stuff needed.
If you are looking for quality and affordable Hiragi Shinoa costume , find it at miccostumes.com. More Seraph of the End cosplays are also availabe for your choice.