There are several skins for Barbarian King; we will cover the weapon in his classic skin. For your reference, the sword we made is around 1.2 meters long; you can proportion it according to your own height.
To begin with, draw the blade shape on a piece of paper, and then cut it down. The paper pattern can be either same size to the sword or be enlarged on EVA sheets.
As always, trace the paper pattern on EVA and cut along the line.
Pencil the blade and bevell along the line inwardly with a knife, then fold to create the solid edge.
Both EVA pieces need to bevell, next, add glue to the notch to strengthen the blade shape.
Glue the two blade pieces together, at the same time, build in a PVC pipe which serves as the spine and handle.
After that, we will take care of the decorative pattern.
3 mm thick EVA sheet is used here, but it seems a little bit too thick, you can try others if you have.
Similarly, outline the shape on EVA and then cut it down.
It is getting obvious, glue the small pattern pieces onto the blade, be careful with the whereabouts and the whole look.
We also try on the stone; you can find this blue flat bottom stones online or in local shop.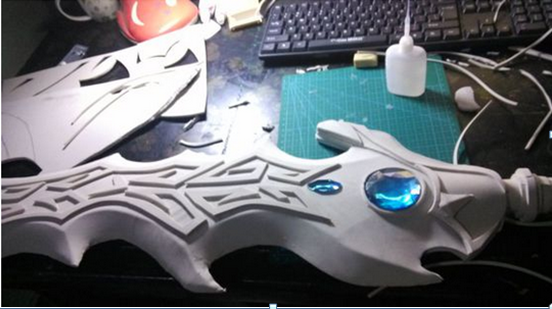 The handle is also wrapped with EVA sheet with the pvc pipe inside.
Then paint the whole sword into black
When it dries out, color the decorative pattern with silver propylene.
Then paint the blade edges with chromeplate
This is before chroming.
Chroming color looks like stainless steel, we brushed two layers of white latex and then another coat of propylene before coloring the edge.
Here we are done with it. Actually it is quite simple once you are familiar with the basic prop making.
By the way, we are planning to make more League of Legends costumes, you can tell us which character or skin you'd like us to make cosplay for.
Check our current League of Legends cosplay collection here.
(Jinx by Sajalyn, costume from Miccostumes)