I have been living in Japan for about 4 months now.  I thought I knew what to expect, but when I got here, it was everything I expected and more!
Every anime fan has to know something about One Piece.  Love it or hate it, it's one of the biggest anime to hit Japan, the United States and well, the world!  Not even a day after arriving in Japan, I saw One Piece merchandise; almost every store in Narita Airport in Tokyo had something with One Piece.  All anime stores, convenience stores and even some restaurants sell one Piece goods .  If you walk into a 7-11 during the lunch time rush, you will see adults reading One Piece and other Jump manga after chowing down on some bento (Japanese pre-made lunches).
Speaking of Japanese foods, One Piece is not only in Jump, toys, and shirts, but it is on all types of foods, drinks and other daily products like body spray.  I have come across Japanese "Cheetos" and "Doritos" with One Piece characters, and if you buy that, it comes with a trading card.  I have also purchased Puccho (Japanese chewy candy with different flavors, similar to Hi-Chew) and with that purchase, you get a One Piece phone charm.  They are all random, so people can't pick and choose what they want, but those (like me) who are not picky are happy with any of them.
In any department store you will find other One Piece goods, like key holders, pen cases, folders, pencils, magnets, even bath salts!!  Anything you can possibly think of, odds are, there is something with One Piece on it.
Naturally, the main crew is the most popular, but minor characters like Ace, the warlords, and even the Marines are popular.  I have seen many crane games in almost any arcade with One Piece characters.  They even had Halloween themed Chopper figures.  The game machines here are more expensive to play (anywhere 100-200 yen per play) but that makes it more rewarding to get the items.  I hope to write an article on arcades sometime since there is a lot to write about them.
As often as I go to anime stores (and that is very often), there seems to be a never ending line of action figures for sale for a fraction of what any and all anime conventions have sold them for.  There are even capsule machines (you know, the ones that cost a quarter and you get some plastic ball with a cool prize in it) with nice sized action figures and cell phone straps in them.  These cost anywhere from 100-500 yen (phone straps costing about 100-200 and the figures costing about 300-500) and the best thing is, they are not junky toys, they are all official, licensed figures and straps!!  I remember paying about $7-$9 for a phone strap at a convention or anime event, and here I have gotten dozens for maybe $3 or so.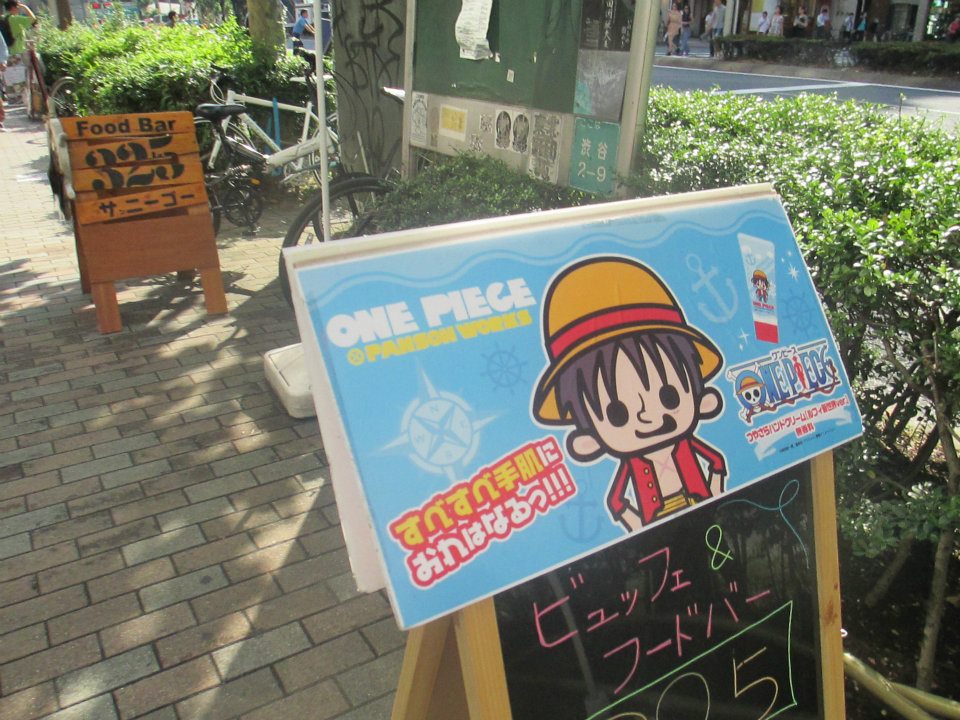 Aside from the food and figures, some anime stores actually play One Piece movies or episodes in their stores.  I have also been in arcades and non-anime stores and heard One Piece opening and ending themes on the radio.  Also, anytime a One Piece movie comes out in theaters, it is a big deal.  There are commercials, even more product advertisements and of course, figures, plushies etc…
There are also One Piece themed stores, and exhibits in museums.  I went to the Toei Museum and there was so much One Piece I thought I was going to pass out!!
Lastly, One Piece gains popularity by being combined with other Japanese pop icons.  Chopper is commonly seen dressed as Hello Kitty or other anime characters.  I have seen a Toriko (another popular Jump manga and anime) and One Piece crossover, there have been figures with Dragon Ball Z characters with One Piece characters as well.  One Piece characters also make appearances on Japanese landmarks.  If you visit any major place like a castle, Tokyo Sky Tree, Tokyo Tower etc…you will find One Piece characters on phone straps and other merchandise with that landmark on it.
In conclusion, if you come to Japan, expect to see One Piece pretty much everywhere except maybe public restrooms.  It's amazing how much one anime has intertwined itself into the Japanese culture.  I don't think I have ever seen so much of one series/movie in the United States.
Note:
Author Bio.:
Rose Rappaport
:I am almost 22 and have been watching anime since I was 3.  I have been cosplaying since 2007 and attending conventions since 2006.  I consider myself very passionate about anime, manga, music, Japanese culture etc…  I have been living in Japan for about 5 months now and I will be here until mid December.  Since I have been here, I have soaked up the culture and language and it has been nothing but paradise.My cosplay.com account is mizu_usagi1.
This article is submitted by our friend Rose Rappaport ,and Miccostumes.com will provide $15 gift card to Rose. And we hope more friends will share own articles related to anime,cosplay,convention live news,Japan culture etc to us 🙂