Today we have Lena from Germany in our cosplayer interviews. Lena seems like having a crush on Lara Croft. There're many versions of Lara Croft cosplay in her Deviantart. She is the most beautiful Lara Croft I've ever seen. Lena, you did such a great job…Maybe even better than Angelina Jolie did! : )
1. Please Introduce yourself first!
Hey there, my name is Lena and I'm a 22 years old digital media designer
from Germany.
2.What does cosplay mean to you?
First it was nothing than a remarkable hobby for me, but over the years it
became a huge meaning to me. Today it's my personal passion, which requires
on the one side much time, work and money, but also means a lot of fun. Sometimes it just feels good to slip into one's shoes
and see that other people can appreciate the effort you put in this.
3.What was your first cosplay?
Lara Croft, of course 😉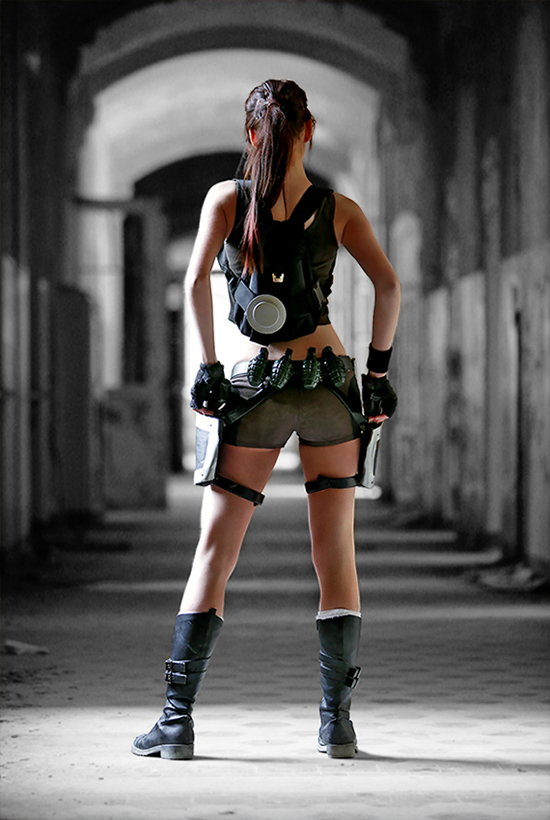 4. Does your family and bf supports your cosplay?
Well, on the one hand, they aren't that much interested in it and sometimes
they call me a freak for all the work I put in it, but on the other hand
they really praise me for the photos I've done.
5. What is your most memorable cosplay experience?
Hmm… maybe my first professional photoshooting as Lara Croft. First I was
a bit afraid of the attention I would get from all the people standing and
coming around, but in the end it was a nearly perfect and unforgetable day.
I recieved much appreciation and compliments for my cosplay, it felt great.
6. What are your 2011 cosplay plans?
At the moment I'm making a Bloodelf-costume from World of Warcraft. I hope
to finish it soon. Also I will cosplay the brand new image of Lara Croft in
the upcoming Tomb Raider game, but one thing after the other.
7. Notice you made many lara cosplay, is there any special menning?
You're right, there is a reason. Lara Croft ist the heroine of my childhood.
She's the woman I always wanted to be, because Lara is sexy, intelligent,
tough, athletic, cultured, well travelled and has this kind of mysterious
charm that works though. I can't see any real woman matching up – but that's
the reason why she became my idol.
8. Do you make costumes yourself or buy them?
Most stuff of my costumes is selfmade. Usually I only buy things which would
be very elaborate to make, like elf-ears or Lara's guns.
9. Any other cosplayers you like?
Oh, there are many other Lara Croft cosplayers around the world that I
really like. Just to mention Illyne or XtremeJenn for example.
10. Do some changes happen to you after cosplay?
Yes, I think so. To be honest, I¹m a quite shy girl and not very confident.
But when I put on Lara¹s boots I become a completly different person.
Cosplay helped me a lot to improve my lack of self-confidence.
11. Any advices you wanna share with cosplay newbies?
Unfortunately there is much inconvenience and intolerance a lot of
cosplayers have to face all over the world. But please don't let this come
in your way or stop you, just do your own thing and have fun! I think it's
important to show that cosplayers aren't a bunch of childish lunatics from
another world without a real life.
12. Last questions, When will you stop cosplay?
Maybe when I become too old for looking right the part… but I think this
won't happened anytime soon 😉
Thanks again for choosing me for the interview!