Cosplay is truly a way to connect with people. You connect with people who share you same interests and love doing the same things you do. You get to learn from each other and watch each other grow in craftsmanship. This sharing can be done with family as well! So moms and dads get out your little ones and prepare for the next convention because you are about to get loaded with ideas!
Cosplay Ideas for Mother and Daughter:
-Sailor Moon and Chibi Moon (Sailor Moon)
Photo Found on girlsbydaylight
-Ariel and Melody (The Little Mermaid)
Cosplayer Biseuse
-Anna and Elsa (Frozen)
Photo Found on blogs.disney
-Princess Peach and Rosalina (Super Mario Bro's)
Photo Found on weeabooze
-Maleficent and Aurora (Sleeping Beauty)
Cosplayer Chrome-sensei
-Alice and The Queen of Hearts (Alice in Wonderland)
Photo Found on splashnology
-Miku and Luka (Vocaloid)
Cosplayer ai
Cosplay ideas for Mother and Son:
-Princess Bubble gum and Finn (Adventure Time)
by DTJAAAAM

-Sally and Jack (Nightmare Before Christmas)
Photo Found on costume-works.com
-Peter Pan and Wendy(or Tinkerbelle) (Peter Pan)
Cosplayer Theelfinartist
-Wonderwoman and Superman
Cosplayer joulii91
-Rin and Len (Vocaloid)
-Link and Princess Zelda (The Legend of Zelda)
-Misty and Ash (Pokemon)
Cosplayer Mari-Evans 
Cosplay Ideas for Father and Daughter:
-Tuxedo Mask and Chibi Moon (Sailor Moon)
-Any Disney princess and her Prince
Photo Found on wdwpics.tumblr.com
-Totoro and Mei (My Neighbor Totoro)
Photo Found on katsucon
-Finn and Princess Bubblegum (Adventure Time)
Photo Found on tested.com
-Vanellope and Ralph (Wreck-it Ralph)
Photo Found on wreck-it-ralph-central
-Maka and Soul (Soul Eater)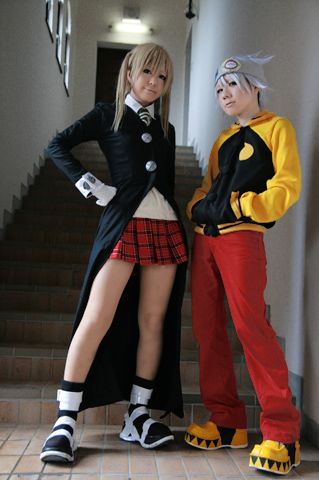 Cosplay Ideas for Father and Son:
-Teenage Mutant Ninja Turtles
Photo Found on zimbio.com
-Obi wan and Anakin Skywalker (Star Wars)
-Inyuasha and Shippo (Inyuasha)
Photo Found on viktalon
-Finn and Jake (Adventure Time)
-Batman and Robin
cosplayed by Bob Kieffer & his son
Cosplay Ideas for the family:
-Jessie, James, Meowth (pokemon)
-Guardians of the Galaxy Group
-Merida, Queen Elinor, King Fergus, The Triples (Brave)
-Ash, Misty, Pikachu (Pokemon)
-Link, Princess Zelda, Navi (The Legend of Zelda)
I could give countless ideas but the choice is up to you! Just pick something you love and go from there. Cosplay is about expressing yourself and having fun dressed up as characters you love. So make sure your kids are happy and excited and that will be all that matters.