""If you run, you won't see me stab you!"
––Katarina
Dans ce tutoriel vous allez employer le couteau et le burin, mais absolument vous ne vous poignarderez pas. Suivez les étapes simples et commencez à fabriquer le poignard de Katarina.
Matériaux essentiels:
Panneaux PVC de l'épaisseur de 5mm et 3mm
Tuyaus PVC avec le diamètre de 5cm et 3cm
Fil de fer
Colle
Couteau, burin
Propylène, Aérosol
Pour assurer la coupe précise des modèles, faites une ébauche sur une feuille de papier. Laissez 2-3cm au bord extérieur comme dans la photo ci-dessous.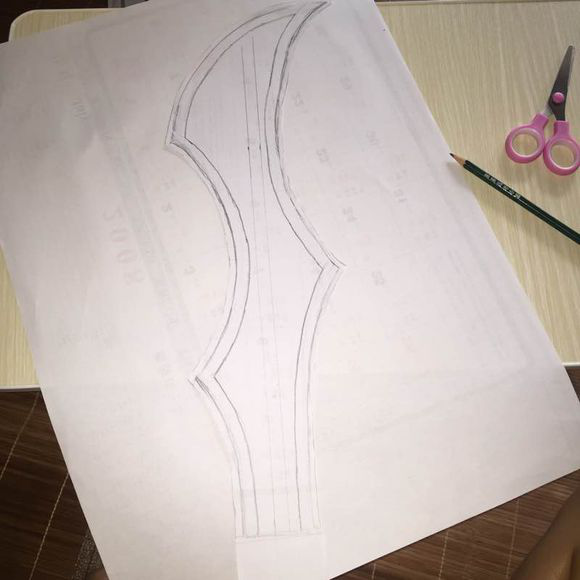 Tracez la forme sur PVC sheets et coupz-les. Nous avons besoin de deux pièces PVC de l'épaisseur de 3mm et une pièce de l'épaisseur de 5mm pour chauqe poignard. Donc coupez six modèles au total.
L'étape suivante est d'implanter le cadre pour éviter la casse.
Créez un cran dans la forme V avec le couteau au centre du modèle PVC de l'épaisseur de 5mm et puis mettez un fil de fer et renforcez-le avec colle.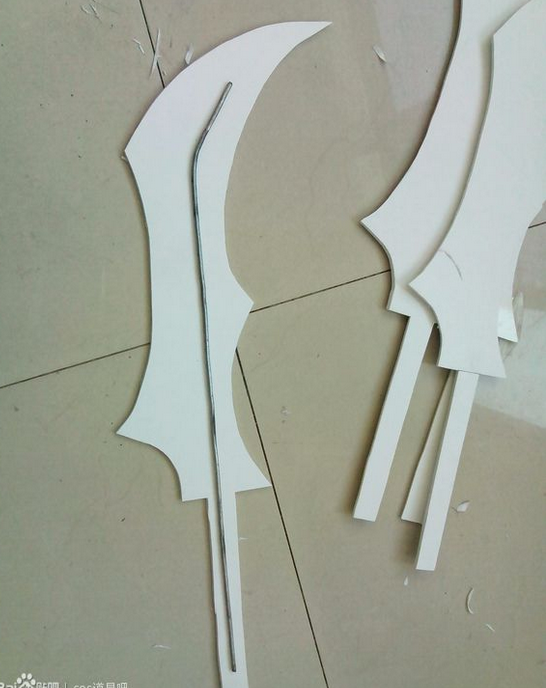 Pour ressembler aux poignards véritables, collez les trois modèles de PVC ensemble. Assurez qu'ils soient collés sans fissure.
Maintenant ils se présentent comme un ensemble. Après cela, créez les poignards en biseautant les bords. C'est aussi necessaire à lisser la surface coupée avec le papier de verre.
Ensuite, c'est la figure sur la partie plate des poignards.
Dessinez doucement la figure avec un crayon, et puis taillez légèrement avec le burin. Soyez patient dans cette étape.
Après avoir fini tout cela, coupez le tuyau PVC à longueur convenable qui vont être la poignée.
Coupez deux rectangles et creusez un trou au milieu. Le mesure du trou doit aller au diamètre de la poignée. Voir la photo ci-dessous:
Assemblez-les et renforcez-les avec colle.
L'étape importante est le coloriage! Coloriez les lames en couleur d'argent et coloriez la figure et la poignée en couleur de noir.
Prêt à regarder les poignards extraordinaires?
Les costumes de Katarina Red Card sont disponibles maintenant, plus de cosplays dans League of Legends sont aussi préparées sur miccostumes.com.
Il y a également plus nouveautés y compris Weather Mage Janna, The Frost Archer LULU, The Frost Archer Ashe, Akali, Lux etc.