Cosplayer Bio:
Name: Kira/Female
Social Networks: deviantart.com, facebook
Character: Sebastian Michaelis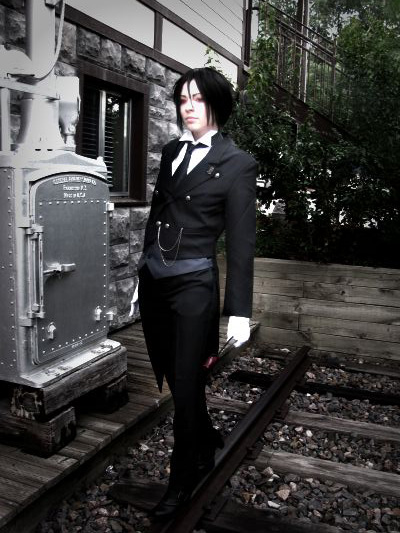 Comments from the cosplayer:
My cosplay is of Sebastian in his famous tailcoat. The pictures were all either taken from a photoshoot or around a convention, either Nan Desu Kan or Animeland Wasabi.
Sebastian is the notorious butler of young Ciel Phantomhive and what isn't there to love about the demon who just so happens to be "one hell of a butler"? A lot of time went into constructing the costume and everything had to be perfect, even the buttons have the Phantomhive insignia on them. From the pocket watch that works to the spikes on the hair, I did everything I could to make the costume as accurate as possible. I love the show Kuroshitsuji and cosplaying from it quickly became a dream of mine that I very swiftly fulfilled. I made roses, trays, and knives for that special little touch. Sebastian then became one of my favorite and most enjoyed cosplays.
——————————————————————————————————————————————————————
Winners and Prizes of the Contest:
One winner will be chosen out from every 15 contestants.
First Prize: any costume from our Black Butler costume catalog
Second Prize: any wig from our Black Butler wig catalog
Third Prize: $20 Cash Coupon
Winners after third will all get $15 Cash Coupons
The voting process:
You can vote for the cosplayer by Facebook likes and Google Pluses. Each Facebook like or Google Plus will be counted as one score.
In addition, the organizer Miccostumes.com acts as another judge. We will govern some votes and vote for the top 20 contestants. I.e., the best entry (in our opinion) will get additional 20 scores, the second will get 19, third 18, and so on.
Read
this post
for more details about the rules and how to join.